Laparoscopic Gamma Probes: 0°, 45°, 90°
1. Description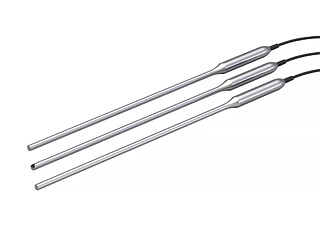 For use in endoscopic surgery, at deep-set lymph nodes, minimally invasive surgery, lymph nodes in cervix and prostate cancer and for research projects, there is a growing need for long narrow probes that fit through a trocar.
For this new applications the laparoscopic probes of the Crystal Probe System are optimally suited. With a probe tip diameter of only 10 mm the probe have a sensitivity of up to 23.000 counts/s/MBq. The collimator is made of tungsten and completely integrated. It provides a side shielding of > 99% @ 140 keV. For several needs and applications 3 different laparoscopic probes are available that have the same parameters but differ in the "direction of view".
With the 3 probe types: 0°, 45°, 90° along the probe axis the whole spectrum of applications is covered.

The minimal-invasive probes are completely closed and work without changeable collimator sleeves. When used intraoperatively the probes has to be protected by a sterile latex cover or to be sterilized the by an appropriate sterilization method.

2. Technical Data
Detector
CsI:Tl-scintillation crystal Ø 4 mm x 6 mm long, read out by a 10 mm2 pin-photodiode
Gamma-energy range
60 keV … > 511 keV
View direction 0°
CXS-OP-SZL, Collimation 45 °
View direction 45°
CXS-OP-SZL-45, Collimation 77° / 62°
View direction 90°
CXS-OP-SZL-90, Collimation 77° / 65°
Probe properties
(all 3 Types)

length: 515 mm
lenth cable: 3m
diameter hand piece: 20 mm
diameter of tip: 10 mm
weight: 7 ounce (200 g)

Special features
no additional collimator sleeves available
2.1 Collimation and Side-shielding
Material
Tungsten, lateral 2,25 mm wall thickness, rear 8 mm wall thickness
side shielding > 99% @ 140 keV (99mTc)
Dihedral angle (FOV)
depends on probe and position, standard 50° FWHM
2.2 Background sensitivity
Zero effect < 0,3 cps = 18 c/min
2.3 Sensitivity and Resolution
| | | | |
| --- | --- | --- | --- |
| Parameter | 0° | 45° | 90° |
| Angular resolution in axis direction | 45° | 77° | 77° |
| angular resolution orthogonal to the axis direction | -- | 62° | 65° |
| spatial resolution in axis direction [mm] | 14 | 15 | 18 |
| spatial resolution orthogonal to the axis direction [mm] | 14 | 17 | 18 |
| sensitivity max. [cps/MBq] | 13500 | 16500 | 22500 |
| side sensitivity [cps/MBq] | 140 | 120 | 55 |
| ratio side sensitivity / sensitivity max. | 1,00% | 0,70% | 0,24% |
| energy range [keV] | 50 - 511 | 50 - 511 | 50 - 511 |